I believe that every child can have a successful learning experience (whether at home or in school) when given the right tools and resources!
I will describe some of my most useful and engaging tools for the upper elementary classroom and/or at-home/homeschooling .
Interactive Notebooks + Aligned Interactive PowerPoints = Magic.
Do you use interactive notebooks? I love them! Some of the most valuable tools whether at home or in the classroom are interactive lessons, especially utilizing BOTH interactive PowerPoint presentations and interactive notebooks.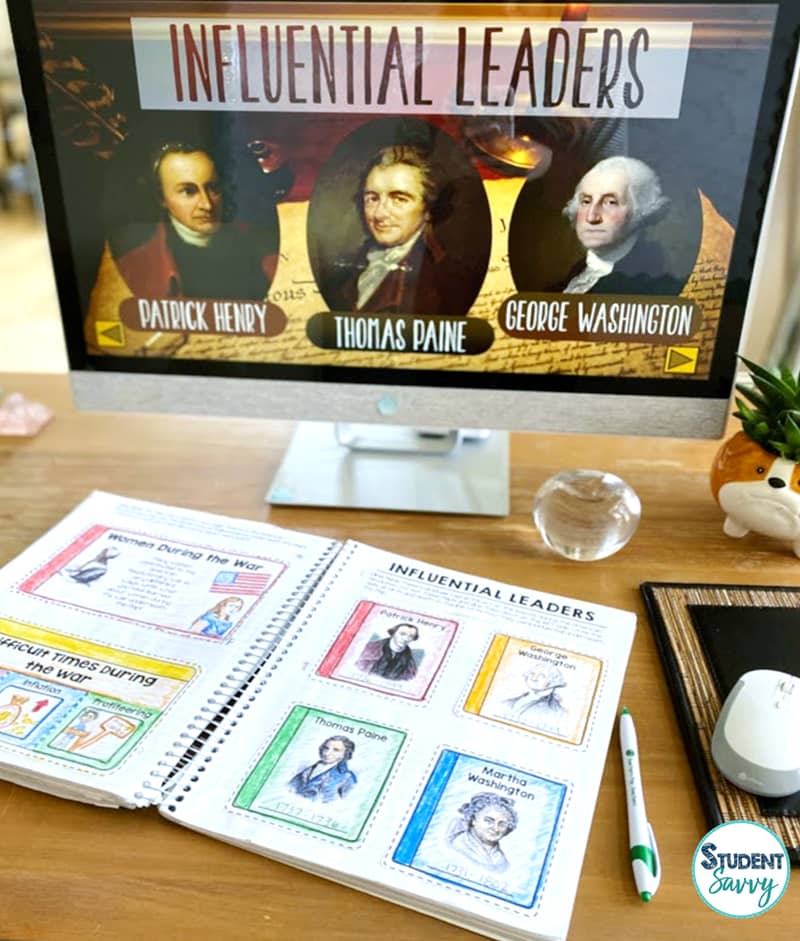 You may be thinking, What?!? PowerPoint presentations are SO old news! But just stick with me for a moment.
Imagine an engaging, virtual experience that captivates students (or children at home) with different visuals, animations, transitions, and critical thinking questions. While using the interactive PowerPoints as a guide, students can simultaneously work on their interactive notebooks throughout the year, while also becoming fully engaged in their fun, virtual experience.
Watch an example of an Interactive PowerPoint here 
The interactive powerpoints are perfectly aligned with interactive notebooks so students can be fully immersed in their learning. The PowerPoints can be used as powerful classroom presentations or children at home can click their way through them on individual computers.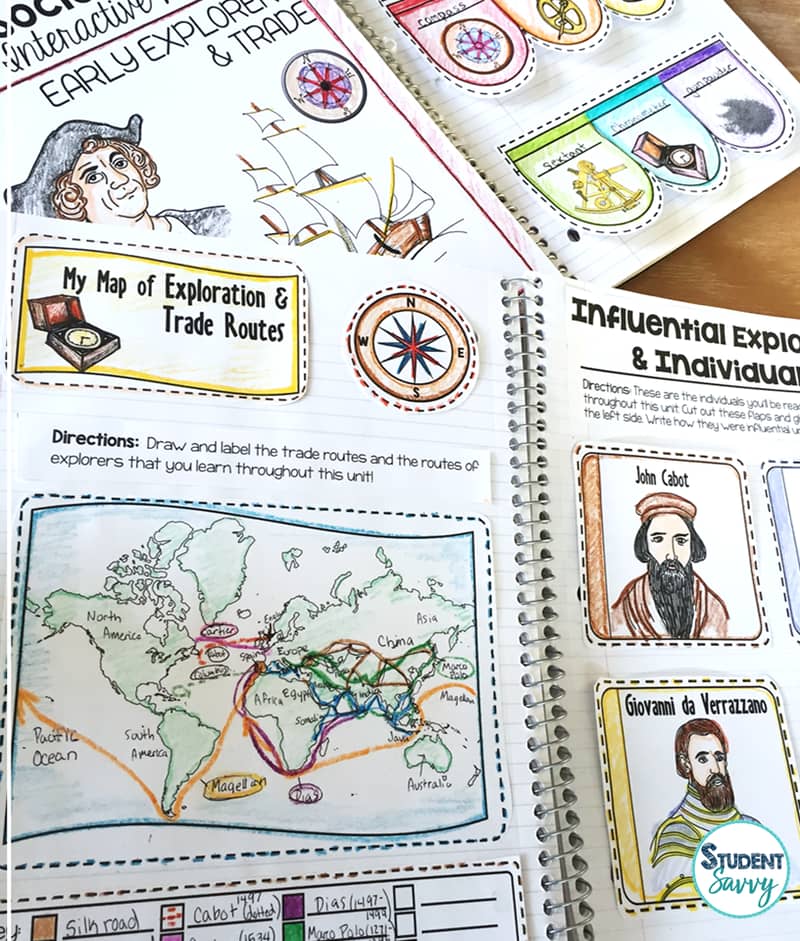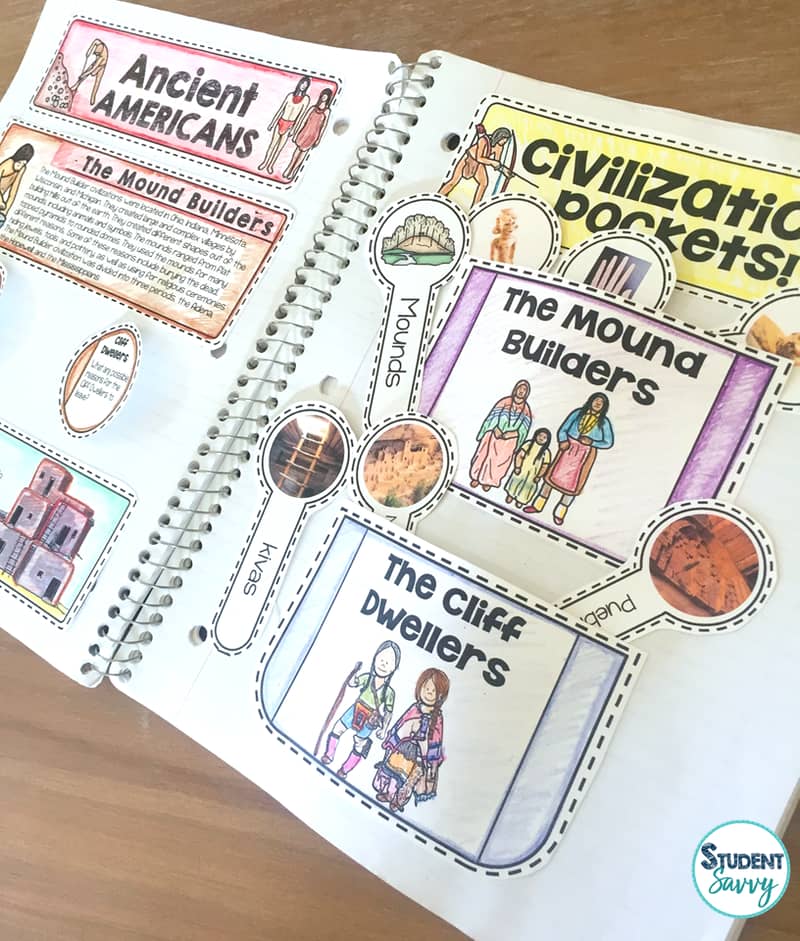 Interactive notebooks are a great way to keep students organized and engaged throughout the ENTIRE  year! Each series has a combination of written activities, coloring, drawing, and creating.
___________________________________________
Beth M: I am really enjoying making Social Studies more hands-on and interactive–and I'm finding student engagement is growing as well as class conversation. It's also really fun!
Christin M: Ahhh! I wish I would have found this earlier! THIS is exactly what I was looking for and honestly hoping that I didn't have to take the time to create myself (whilst in the middle of my master's program)! THANKS SO MUCH!
Camila P: This resource is much more interesting than reading a text book. Students enjoy creating their notebooks and collaborating to read and complete the assignments
______________________________________________
Here are the Interactive Notebook and Interactive PowerPoint resources you might enjoy:
Ancient Civilizations Interactive Notebooks & PowerPoints
Medieval Times Interactive Notebooks & PowerPoints
Earth Science Interactive Notebooks & PowerPoints
US History Interactive Notebooks & PowerPoints
Health Interactive Notebooks & PowerPoints
_______________________________________________________________________________________________________
Challenge Accepted: STEM & STEAM Activities!
How to Prep for a STEM or STEAM Activity
I'll fill you in on my favorite supplies to collect for the BEST price!
Do you have a local dollar store? I use the Dollar Tree to find most of my supplies. I like to have a basic collection of on-hand supplies for any STEM challenge!
My Must-Have STEM & STEAM finds include:
String
Straws
Toothpicks
Washi Tape (Duct tape)
Shoe-boxes
Balloons
Marbles
Ping Pong Balls
Popsicle Sticks
Clay or Play-dough
Paint
Paintbrushes
Q-Tips
Rubber bands
Glue
Here's an example of an United States History STEM challenge I use in the classroom:
American Revolution STEM Challenge: Create a spinning wheel!
The Daughters of Liberty played an important roll in helping to organize and participate in boycotts. They worked hard to avoid using British goods. For example, they used spinning wheels to make homespun cloth instead of purchasing British clothing.
Using a list of supplies, STEM groups must engineer a model of a spinning wheel! The model must contain the following elements: a drive wheel, a bobbin, and legs. The drive wheel must be able to spin… learn more about this challenge here!

Ancient China STEM Challenge: Using a list of supplies, students must design either an erhu or ruan instrument of Ancient China. Inside the STEM resource, there is a detailed description page of these two ancient instruments. The instrument must be able to produce sound and the strings must produce a variety of pitches. Using an information guide, students must create a model that is inspired by the information they have learned. Students have two days to complete this challenge.
Fun, right?? 
I love STEM because it allows for creativity, cross-curricular learning, student/peer collaboration, student-centered learning, and SO much more.
______________________________________________
Here are STEM resources you might enjoy:
_________________________________________________
Looking for Complete Curriculum resources? Each one of my curriculum resources also includes bonus material – free curriculum binders and a sample pacing guide for the entire year.
You can also download them separately here: 
FREE Ancient Civilizations Pacing Guide and Teacher Binder Set
FREE Medieval Times Pacing Guide and Teacher Binder Set
FREE Earth Science Pacing Guide and Teacher Binder Set
FREE US History Pacing Guide and Teacher Binder Set
FREE Health Pacing Guide and Teacher Binder Set
Complete Curriculum Resources: 
Ancient Civilizations Complete Curriculum 
US History Complete Curriculum
Medieval Times Complete Curriculum 
Earth Science Complete Curriculum